How To Outsource SEO: The Ultimate Guide For Marketing Agencies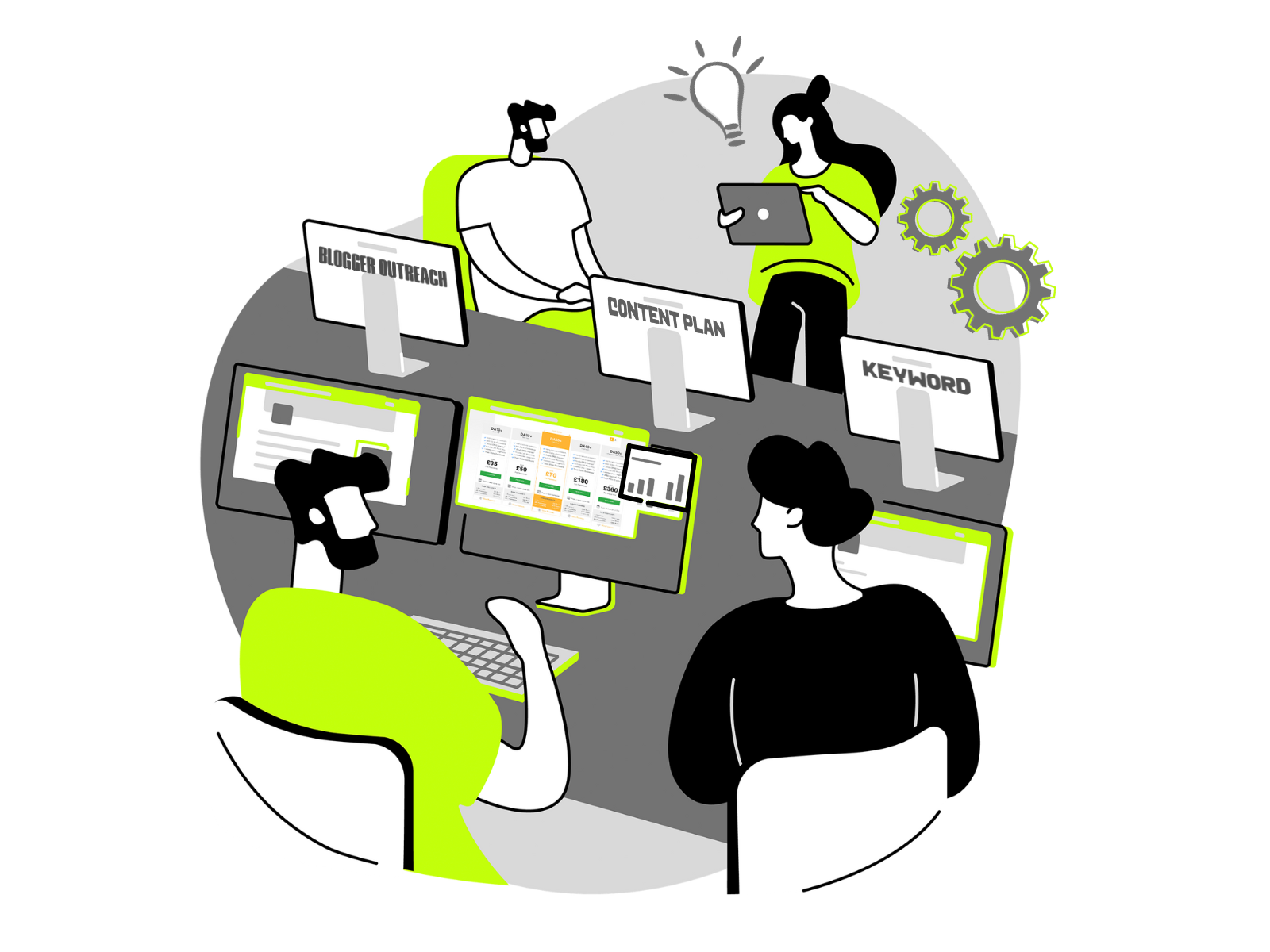 Many marketing agencies find that when it comes to delivering SEO for their clients, they haven't got the time or resources to be able to scale their SEO services to deliver impressive results for their clients.
So the solution? To outsource SEO tasks. 
We'll talk you through exactly how the most successful marketing agencies are outsourcing SEO for their clients.
We've been working alongside marketing agencies who outsource SEO for their clients for nearly 10 years now so we know a thing or two about how to do this successfully.
Check out this video for the perfect summary!
Who To Outsource To
In terms of who to outsource to, you have two options: use individual contractors/freelancers or an outsource SEO agency. 
Using individual contractors or freelancers has its benefits because you can create your own team of specialists that are put together in a way that best benefits your clients.
However, the reason you're here watching this video is because you want to save time and money. 
So with that in mind, hiring an SEO agency that specialises in providing SEO services may be the best option.
These kinds of companies already have the infrastructure that enables scalable, efficient delivery.
They have access to a variety of specialists in different areas of SEO.
For example, FATJOE has built relationships with thousands of bloggers for our blogger outreach services.
We have also recruited a huge team of trained writers for our content writing services.
With all of our services, we have built teams, processes and technology to deliver them efficiently in large volumes.
Why You Should Outsource Your Clients' SEO
There are many benefits to outsourcing your client's SEO:
You save time & money

You don't have to search for specialist talent, hire and train new team members which won't increase overheads

And you can scale up and down with demand
Once you've crafted the client's SEO strategy, you can simply offload the implementation to an seo agency so you can turn your attention to other areas of your client's website or digital marketing strategy.
As a result, you're able to offer more services to your clients, expanding your business and improving overall results for your clients. 
You're not only able to save money in reducing hiring requirements, but you're actually going to make more as you're able to take on more SEO clients with less overheads. 
If you're just starting a digital marketing agency this is particularly helpful as it really lets you focus on client acquisition and retention while the deliverables handle themselves.
This all sounds wonderful, right?! 
What To Consider Before Outsourcing SEO
There are some things you need to consider before you dive into outsourcing your client's SEO.
Here are our tips for the things you need to resolve or consider prior to placing an order…
Let's start with the strategy itself:
Timeframe
How long have you been working with your client? And how much longer do you expect to maintain their custom?
This is an important consideration because, as I'm sure you know, SEO is a long-term strategy.
It can be frustrating for clients and agencies alike if clients are demanding fast results simply aren't achievable. With this comes the challenge of managing expectations. 
Budget
This will mostly inform your approach to outsourcing SEO for your clients.
If you have more of a budget, you could opt for a freelancer or SEO agency that will develop the strategy for your clients as well as implement the SEO.
Of course this means a larger cut in your profit margin and less control.
So if you want to keep this more constrained, then productised SEO services may be the best route. 
Your Client's Goals
What services do you need that would best help to reach the goal of your client's SEO strategy?
With this in mind, you need to consider whether you'd like to outsource the entire campaign, or improve scalability by outsourcing various parts of the campaign.
For example, does your client require more backlinks to be able to rank higher in the search results?
What does their backlinking profile currently look like?
If it's full of lower quality backlinks, you may want to use backlink services to mimic a more natural link profile.
This may require a good mixture of blogger outreach, niche edits, outreach to media publications, and infographic outreach. 
Or maybe you need to develop a stronger content marketing strategy to boost SEO, so you may need content writing services and infographic design. 
The SEO audit that you will have conducted for your client will help to inform these answers. 
What To Consider When Choosing An SEO Reseller
Now I want to take you through the things you need to consider when comparing SEO resellers. 
Flexibility
First up: flexibility.
Many SEO service providers require you to sign up to a monthly retainer which may work well for you if you know that your clients require regular SEO services.
However, many others offer a more flexible approach with an 'on-demand service where you can order as many services as you require as and when you need them.
This approach is often more scalable and saves the hassle of losing money from not utilizing a retainer or having to cancel non-refundable service plans. 
Transparency
Transparency is particularly important within the SEO industry. 
Ensure that you receive a full report of any backlinks gained as well as information regarding the website such as the DR at the point of the placement and a link to the content or link placement. 
This means that there are no blind spots and you have all the answers to any questions your clients may have. 
White labelling
With this in mind, consider whether non-branded reports are a standard offering.
White label essentially means that the reports are not branded by the SEO agency you've used to outsource your work.
This enables you to offer full reports to clients with your own branding.
This enforces trust in your brand, consistency across your SEO campaigns and prevents your clients from going elsewhere. 
Customer Support
This one is more important than you may think.
Does the agency you're looking at using offer any customer support? Are they easy to contact and supportive in answering your questions?
Most have online chat functions which are great for receiving quick answers to questions. 
But when you need answers quickly, are you able to give them a call?
For example, FATJOEs support team monitors the online chat and phone lines ready to answer any queries our clients may have, so there are no automated robots here!
We also offer scheduled calls where you can book some time with a member of our team to have a call and ask any questions you have about the outsourced services.
This level of customer support is what you should be looking for with any SEO reseller.
The ability to monitor orders & campaigns
If your client wants an update on their SEO campaigns, you need to be able to quickly and easily answer and offer an update. 
Check whether the SEO agency or freelancer you're considering sends regular email updates about your orders. 
Dashboards are also great for monitoring the progress of your reports with expected completion dates and live updates. 
Trials & Comparison
As you would with hiring any freelancer or agency, we recommend that you conduct a trial before definitively deciding who to outsource to. 
Beyond contacting the agency or freelancer with your questions, you should place one trial order and make sure that it's what you're after.
If it isn't, at least you know to discount that service!
They may even offer a guarantee, such as a 100% refund if you're not completely satisfied.
These kinds of guarantees offer reassurance from the outset and show that they believe in their services, enough to make it completely risk free.
Also something to note, which we're sure you've come across…
If a freelancer or SEO outsourcing agency claims that their services can get your client ranking #1 within a particular amount of time, without having done any analysis on the website or understanding the business and industry,  that's a red flag. 
Placing an Order
And finally, let's talk about what you need to be able to place an order for a productised SEO service. 
Anchor Texts & URLs
To be able to place an order for link building services in particular, no matter which SEO agency you're ordering from, you'll be asked to provide the anchor text and URLs for your order.
Now don't just focus on the industry-led keywords and use these as anchor text. 
Anchor text should be kept very natural, keeping keyword anchors to an absolute minimum. 10-20% is a safe maximum for keyword anchors.
When linking to a homepage use Brand and URL anchor text.




When linking to money pages use a mix of partial match anchors and keyword anchors.




When linking to content assets use the title of the asset, but keep it mixed and natural.
The keyword anchor texts you choose to use will be informed by keyword research.
You can outsource keyword research as part of your SEO campaign, but if you choose to do this in house, we have a detailed keyword research guide on our YouTube channel that'll take you through exactly how to do this for any website. 
Quantity & Frequency of Orders 
The true answer is 'it depends' – which is not an uncommon response from SEOs.
This is because it really does… 
For example, a brand new e-commerce website with no content marketing strategy may be much harder to rank than an aged, more authoritative website with plenty of content.
The frequency of your orders, and the size of these orders, entirely depends on the service you're ordering and your client's strategy.
For example, with blogger outreach, we recommend 5-20 per month (depending on competitiveness of niche and the brand you are promoting). 
Typically, websites in low competing keyword niches like 'Miami Plumber' would need less links compared to websites competing for terms such as 'Car Insurance'.
This is because big brands (usually financially backed or aged) dominate more national countrywide results whereas local businesses have an opportunity to compete against other local businesses.
We strongly recommend changing links quantities for blogger outreach each month simply because it ensures a more natural trend in your client's link profile. 
However, with content creation, we recommend a more frequent, consistent creation of content such as once a week or month depending on the strategy. 
Detail & Briefs
This section refers primarily to outsourcing content creation for a client's website as part of their SEO strategy.
The more detailed you are with your brief, the more likely you are to get the exact content that you want. 
You'll often find that, particularly with experienced freelancers or agencies that have expert content writers, you're able to simply provide them with a topic and the URL for your client's website and they're able to craft quality, SEO optimized content for your client's website. 
However, as with anything, the more detail you're able to provide regarding the subtopics and intended target audience, the more likely you are to get the perfect content for your clients. 
The Client's Website
And finally, I just want to touch upon some tips to ensure that you get the best possible results for your clients if you choose to outsource SEO. 
There are certain areas of a client's website that will affect the effectiveness of any link building or content creation strategy. This relates to page experience and ranking factors. So ensure you have these onsite SEO basics covered:
SEO Friendly URLs
All URLs on the website need to include the target search keyword or words clearly showing the topic of the content in order to rank well in the search results. 
User-Friendly Title Tags
All the title tags on the target pages need to include the keyword. For example, here we have 'Link Building Services for SEO's | FATJOE', which clearly shows users and search engines alike what the content is about. 
On Page Headings
As with title tags, include keywords naturally without stuffing the headings full of them.
Responsive Website Design
This is a must to ensure search visibility on mobile
Site Speed
A slow site speed will decrease your rankings in Google, no matter how much off-page SEO work you do. 
Internal Links
Internal links help users to navigate through the website and help search engines to understand linked pages.
We have more detailed guides on improving site speed, keyword research and internal linking strategy which I've linked in the description if you'd like to check them out. 
Many marketing agencies find that when it comes to delivering SEO for their clients, they've managed to save time, resources and scale their SEO services by outsourcing various tasks.
Simply follow in their footsteps to deliver impressive SEO results for your clients.
Daniel Trick
Head of Content
Become a Pro at
SEO
Join 65,000 others and learn the secrets to SEO success with our weekly blog posts.